Make a Ginger Bread House

Now this is where the fun really begins. This house is done in all red, white and green, but don't be afraid to use other colors and candies. Unwrap all your candies before starting. Your icing will dry if you don't if you have a lot of candies to unwrap. Use Starlight Mints, Arabian Mints or M&M's on the roof, peppermint sticks on the sides, gumdrops under the eaves for lights.
I start on the roof with this pattern, but you can start anywhere you want. Just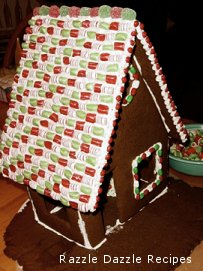 remember to work from the inside out. By that I mean is if you are going to decorate under the eaves do that first before trimming the windows, it will keep you from bumping the decorations as you go, or let them be completely dry if you do as I did here. I wanted to put peppermint sticks up under the eaves but am having trouble finding any here that are not candy canes, so I went out looking after I discovered the ones I had were too thick. The top window in this house was too large to decorate the eaves with any of the candy I had but white stars with the royal icing. ( I also had made a mistake and forgot to add the chimney during construction, because my phone kept ringing. I added it at this point but that is something you really don't want to do) Add you door last or when you finish the front.
After you decorate you house, then it is time to move on to the yard. Cover just part of the yard with the icing. Don't do more than you can decorate in about 5 minutes. If desired sprinkle with sparking white sugar (this is a large crystal type of sugar) to simulate snow. I decorate around the edge as a fence, candy canes or pretzels work great. This is also where you would add your trees and bushes that you already made. Tootsie Rolls make a great log pile, add a sled or perhaps a snowman. Add a sidewalk in front of the door, starlight mints, cinnamon disks, Chocolate nonpareils or cut rock candy work great here. Skewer a few gumdrops to stick in the chimney or add some Santa Suckers. The finished house here is about 12 inches high and 9 inches across at the roof. The measurements do not include the gumdrops in the chimney or the base.
There are a lot of great Gingerbread Books out there, Wilton makes a really good one called Celebrate Christmas with Wilton and that is also where the pattern for this house came from. A couple of others are Gingerbread For All Seasons by Teresa Layman and The Gingerbread Book by Allen D. Bragdon. I own all 3 of these and would recommend any of them. I have got something out of each of them.
My Finished House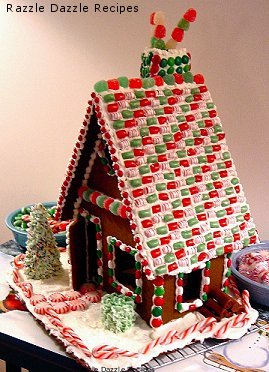 Razzle Dazzle Recipes
No Portion of this site may
be republished without permission