CHINESE ZODIAC RECIPES
PRESENTED BY MAGGI® TASTE OF ASIATM
AND YING CHANG COMPESTINE
<![if !vml]>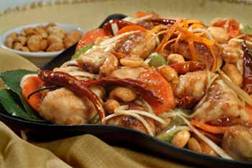 <![endif]>
Zodiac Sign: Dog
When the animal signs were being selected, the Jade Emperor held a race. The Dog and the Rooster were running even, then at a critical moment the Rooster cheated and flew ahead of the Dog, gaining tenth place in the Chinese zodiac. To this day, the Dog has not forgiven the Rooster, and continues to chase him. With this dish, the Dog gets a little revenge! So all those born in the sign of the Dog, stop running and enjoy this delicious meal.

SWEET JUSTICE KUNG PAO CHICKEN
(Makes 4 servings)
3/4 lb. boneless, skinless chicken breast halves,
precut for stir-frying
1 pkg. (1.94 oz.) MAGGI® TASTE OF ASIATM
Seasoning Blend for Satay Chicken
2 tablespoons canola oil
1 tablespoon finely chopped fresh orange peel
4 whole dried chili peppers
1 cup thinly sliced lengthwise leek
(white part only)
1/2 cup thinly sliced carrot
1/2 cup thinly sliced celery
2 tablespoons MAGGI® Cooking Soy Sauce
3 tablespoons roasted peanuts

COMBINE chicken and Maggi Seasoning Blend in medium bowl; toss to coat. Let stand for 5 minutes.

HEAT oil in large, nonstick wok or skillet over medium-high heat. Add orange peel and chili peppers; cook, stirring constantly, for about 30 seconds or until fragrant.

ADD chicken to wok. Cook, stirring constantly, for 3 minutes or until browned and no longer pink in center. Add leek, carrot and celery; cook, stirring frequently, for 1 minute or until vegetables are crisp-tender. Stir in Maggi Cooking Soy Sauce. Transfer to serving dish. Garnish with peanuts. Serve hot.

Editor's Note: For the complete set of 12 Chinese Zodiac recipes, more information about MAGGI® TASTE OF ASIATM products, or to schedule an interview with Ying Chang Compestine, please contact Judy Bakshi at (206) 270-4713 or judy.bakshi@publicis-usa.com.