Razzle Dazzle Recipes
"Your Source for Thanksgiving Recipes"
Au Gratin Potatoes Recipe

4 lbs. potatoes (about 12 medium potatoes)
6 T. butter
6 T. flour
3 1/2 C. whole milk
1 1/2 t. salt
1/2 t. pepper
2 C. grated Gruyere cheese

Preheat oven to 350°F. Wash, peel and thinly slice potatoes. Put them in a bowl and cover with cold water.
In a saucepan over low heat melt butter. Add flour gradually to make a roux, stirring constantly. Gradually add milk, making sure that the sauce does not become lumpy. Add salt and pepper and increase heat to medium, stirring until the sauce thickens (about 5 minutes).

Remove from heat. Drain and then layer the potatoes in a 9 x 13-inch glass baking dish, covering each layer with sauce.
Sprinkle grated cheese over the top of the casserole. Bake, loosely covered with foil, for 30 minutes. Uncover and bake an additional 45 minutes. Let stand 5 minutes before serving.
Makes 8 servings
Back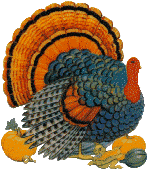 Home

Razzle Dazzle Recipes





http://www.razzledazzlerecipes.com

Don't forget to visit our other Recipe site at
That's My Home

Happy Thanksgiving!