Razzle Dazzle Recipes
"Your Source for Thanksgiving Recipes"
Broccoli au Gratin Recipe
4 C. salted water
3 lbs. broccoli, peeled, cut into large uniform pieces
3 T. unsalted butter
3 medium shallots, peeled, minced
2 cloves garlic, peeled, minced
2/3 C. sour cream
1 C. grated Parmesan cheese, divided
1/2 t. freshly grated nutmeg
1/2 t. freshly ground white pepper
1/2 t. salt

In a large saucepan, bring the salted water to a boil. Add the broccoli and boil about 5 minutes. Drain into a colander and spray with cold water to stop the cooking process. Coarsely chop the broccoli.

In a large skillet, melt the butter. Add the shallots and saute 3 minutes, stirring frequently. Add the garlic and saute for another minute.

Place the shallot mixture in a food processor fitted with the metal blade. Pulse a few times to puree. Add the sour cream and pulse 4 to 5 times to mix. Add the broccoli and 3/4 cup of the Parmesan cheese and pulse 4-5 minutes. The mixture should not be overpureed. Stir in the nutmeg, pepper and salt.

Preheat the broiler. Spoon the mixture into a 2-quart broiler-safe gratin or soufflé dish. Sprinkle the top with the remaining 1/4 cup Parmesan cheese. Place under the broiler for 2 minutes or until the cheese is melted and slightly golden. Serve.

Makes 6 cups (12 half-cup servings).
Back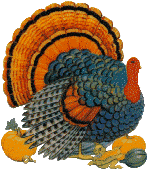 Home

Razzle Dazzle Recipes





http://www.razzledazzlerecipes.com

Don't forget to visit our other Recipe site at
That's My Home

Happy Thanksgiving!