Razzle Dazzle Recipes
"Your Source for Thanksgiving Recipes"
Broccoli White Cheddar Pie
2 T. butter
1 C. chopped onion
4 C. broccoli florets (smaller florets cook more quickly)
1/2 C. mayonnaise
1 can condensed cream of celery soup
2 C. grated sharp white Cheddar cheese
1/2 C. dry bread crumbs
2 T. butter, melted

Preheat oven to 350°F. Coat a 1 1/2-quart casserole dish with nonstick cooking spray.

Melt the butter in a 10-inch saute pan over medium heat and cook the onion, stirring, until softened but not browned, 3 to 4 minutes. Add the broccoli, cover the saute pan and cook the broccoli until it is crisp-tender, about 4 minutes. Let cool slightly. In a large mixing bowl, combine the mayonnaise, soup and cheese. Stir in the broccoli mixture. Pour the contents of the bowl into the prepared casserole dish.

In a small mixing bowl, combine the breadcrumbs and melted butter and sprinkle the breadcrumbs on top of the casserole. Bake the casserole until it is bubbling and the breadcrumbs are golden brown, about 35 minutes.
Makes 8 servings.
Back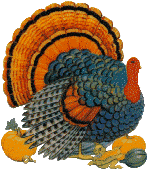 Home

Razzle Dazzle Recipes





http://www.razzledazzlerecipes.com

Don't forget to visit our other Recipe site at
That's My Home

Happy Thanksgiving!