Razzle Dazzle Recipes
"Your Source for Thanksgiving Recipes"
Brussels Sprouts with Bacon and Onions Recipe
2 oz. smoked bacon
4-6 small white boiling onions
1 lb. Brussels sprouts
1/4 C. water
1/4 t. sherry vinegar
Coarse salt
Black pepper

Slice bacon into thin slices. Peel onions and slice across 3 or 4 times so that you end up with small rings. Trim base of sprouts and slice in half, top to bottom, then cut into chiffonade (shreds). In a heavy skillet over medium heat cook bacon until lightly browned. Pour off all but 2 T. bacon fat.

Add onions and saute briefly. Add shredded Brussels sprouts and stir-fry for a couple of minutes. Add 1/4 Cup water and cover. Steam until bright green and tender, about 8 minutes. Season with sherry vinegar, salt and pepper.

Makes 4 side-dish servings.

Back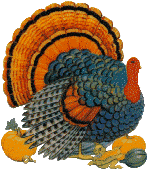 Home

Razzle Dazzle Recipes





http://www.razzledazzlerecipes.com

Don't forget to visit our other Recipe site at
That's My Home

Happy Thanksgiving!