Razzle Dazzle Recipes
"Your Source for Thanksgiving Recipes"
Marmalade Candied Carrots Recipe

2 lbs. carrots, scraped, sliced diagonally

2/3 C. orange marmalade

2 T. brown sugar

2 T. butter or margarine

2 T. rum

1/2 C. toasted pecans, coarsely chopped

In a vegetable steamer over boiling water, cover and steam carrots about 10 minutes or until
crisp tender. Transfer carrots to a serving bowl. Stir marmalade into carrots until marmalade has melted.

Combine brown sugar, butter, and rum in a small saucepan.

Cook over medium heat until butter and brown sugar melt.

Remove from heat, and stir in pecans. Pour over carrot mixture in bowl. Toss gently.

Serves 8.

Back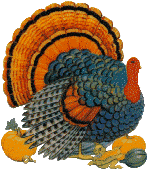 Home

Razzle Dazzle Recipes





http://www.razzledazzlerecipes.com

Don't forget to visit our other Recipe site at
That's My Home

Happy Thanksgiving!