Razzle Dazzle Recipes
"Your Source for Thanksgiving Recipes"
Candied Sweet Potatoes Recipe
4 medium sweet potatoes, peeled and cut into 1-inch slices
1/2 t. salt
4 T. butter
1 C. sugar
1/2 C. chopped pecans
1/2 t. ground cinnamon
1/4 t. ground cloves
1/4 t. nutmeg
1/4 C. pure maple syrup
4-5 C. mini marshmallows

Preheat oven to 375°F. Butter a 9 x 13-inch baking dish.

In a medium saucepan, cover the potatoes with water; add the salt. Boil the potatoes until tender. Drain.

Combine the potatoes, butter, sugar, pecans, cinnamon, cloves, nutmeg and maple syrup. Mix well, but leave a few chunks of whole potato. Pour into the baking dish and bake until browned, about 30 minutes.

Remove from the oven and top with mini marshmallows. Continue to bake until marshmallows are lightly browned and melted; do not allow to burn.
Makes 6-8 servings.
Back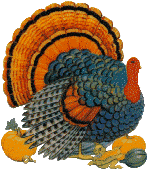 Home

Razzle Dazzle Recipes





http://www.razzledazzlerecipes.com

Don't forget to visit our other Recipe site at
That's My Home

Happy Thanksgiving!