Razzle Dazzle Recipes
"Your Source for Thanksgiving Recipes"
Glazed Carrots Recipe

6 C. carrots cut into 1-inch diagonal slices (or use little baby carrots)

1/4 C. orange juice

1/2 t. nutmeg

1/4 C. brown sugar

1 t. cornstarch

1/2 t. salt

1/4 C. butter

Cook carrots in a small amount of salted water until tender then drain water. Combine orange juice, nutmeg, brown sugar and cornstarch in a small sauce pan and mix until smooth. Pour over carrots and cook over low heat for several minutes until mixture thickens. Add salt and butter and toss. Serve hot.

Back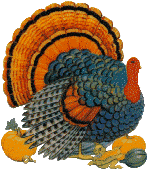 Home

Razzle Dazzle Recipes





http://www.razzledazzlerecipes.com

Don't forget to visit our other Recipe site at
That's My Home

Happy Thanksgiving!