Razzle Dazzle Recipes
"Your Source for Thanksgiving Recipes"
Citrus Cranberry Sauce

3-inch piece of cinnamon stick
1/2 lemon, thinly sliced, seeded and cut into quarters
1/2 orange, thinly sliced, cut in quarters
2 C. water
4 C. fresh cranberries
1 C. brown sugar

Combine cinnamon, lemon, orange and water in a 2-quart saucepan. Bring to a boil. Reduce heat, cover and simmer for 5 minutes. Remove cinnamon stick. Add cranberries and sugar. Simmer, covered, for about 5 minutes, just until cranberries pop. Do not overcook.

Cool, cover and refrigerate.

Serves 16; yields about 4 cups


Back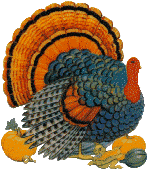 Home

Razzle Dazzle Recipes





http://www.razzledazzlerecipes.com

Don't forget to visit our other Recipe site at
That's My Home

Happy Thanksgiving!