Razzle Dazzle Recipes
"Your Source for Thanksgiving Recipes"
Cornmeal Biscuits Recipe
3 C. all-purpose flour
1 C. all-purpose cornmeal
4 t. baking powder
1 t. baking soda
2 t. granulated sugar
1 t. salt
2/3 C. firm vegetable shortening
1 1/2 C. buttermilk
Vegetable cooking spray

Mix flour, cornmeal, baking powder, baking soda, sugar and salt in a large bowl. Cut shortening in small pieces, add to mixture and use a pastry blender or two knives working against each other until mixture is very coarse and shortening pieces are no larger than tiny peas. Drizzle the buttermilk into the mixture and stir only until ingredients are barely combined.

Lightly flour a cutting board, other surface and roll out dough to about 1/2 -inch thick. Use a biscuit cutter to cut out biscuits and place on a sprayed baking sheet. Gather scraps on surface without holding in your hand, re-roll and cut more biscuits.
Spray a little cooking spray on each biscuit and bake about 9 - 12 minutes in a 450°F. oven until lightly brown.

Back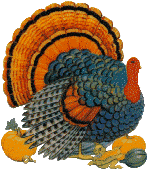 Home

Razzle Dazzle Recipes





http://www.razzledazzlerecipes.com

Don't forget to visit our other Recipe site at
That's My Home

Happy Thanksgiving!