Razzle Dazzle Recipes
"Your Source for Thanksgiving Recipes"
Cranberry Salad Dressing
1 C. fresh cranberries
1 medium navel orange, peeled and sectioned
2/3 C. granulated sugar
1/2 C. vinegar
1 t. salt
1 t. ground mustard
1 t. grated onion
1 C. vegetable oil

In a blender, combine the cranberries, orange sections, sugar, vinegar, salt, ground mustard and onion; blend well. While blending, remove cover and gradually add oil in a steady stream. Store in covered container in the refrigerator.
Makes 2-1/2 cups.
Back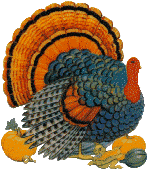 Home

Razzle Dazzle Recipes





http://www.razzledazzlerecipes.com

Don't forget to visit our other Recipe site at
That's My Home

Happy Thanksgiving!