Razzle Dazzle Recipes
"Your Source for Thanksgiving Recipes"
Festive Cranberry Salad

1 can (14 oz.) sweetened condensed milk

1/4 C. lemon juice

1 can (20 oz.) crushed pineapple, drained

1 can (16 oz.) whole-berry cranberry sauce

2 C. miniature marshmallows

1/2 C. chopped pecans

Red food coloring , optional

1 carton (8 oz.) frozen whipped topping, thawed

In a bowl, combine milk and lemon juice. Mix well. Stir in the pineapple, cranberry sauce, marshmallows, pecans and food coloring. Fold in whipped topping. Spoon into a 13 x 9 x 2 baking dish. Freeze until firm, 4 hours or overnight. Cut into squares.

Yield: 12 to 16 servings.

Back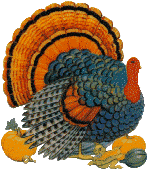 Home

Razzle Dazzle Recipes





http://www.razzledazzlerecipes.com

Don't forget to visit our other Recipe site at
That's My Home

Happy Thanksgiving!