Razzle Dazzle Recipes
"Your Source for Thanksgiving Recipes"
Cranberry Salad Recipe
1 package whole cranberries
1 C. sugar
1 C. water
1 package cranberry or cherry Jell-O
1 C. diced celery
1 C. diced apples
1 dozen to 1 1/2 dozen large marshmallows
1/2 C. chopped nuts (if desired)

Combine cranberries, sugar and water. Boil 5 minutes. Add package of Jell-O and marshmallows. Stir until marshmallows are melted. Cool, then add apples and celery. Nuts may be added if desired.

Refrigerate until set.
Back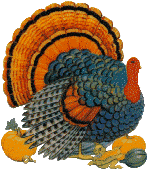 Home

Razzle Dazzle Recipes





http://www.razzledazzlerecipes.com

Don't forget to visit our other Recipe site at
That's My Home

Happy Thanksgiving!