Razzle Dazzle Recipes
"Your Source for Thanksgiving Recipes"
Whipped Cranberry Salad

1 lb. cranberries
1 C. granulated sugar
1 C. crushed pineapple, drained
1 12 oz. package miniature marshmallows
1 C. whipping cream, whipped

Chop the raw cranberries in a food processor, blender or meat grinder. Combine cranberries, sugar, drained pineapple, miniature marshmallows and whipped cream.
Mix together and refrigerate overnight.

Back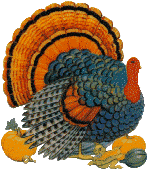 Home

Razzle Dazzle Recipes





http://www.razzledazzlerecipes.com

Don't forget to visit our other Recipe site at
That's My Home

Happy Thanksgiving!