Razzle Dazzle Recipes
"Your Source for Thanksgiving Recipes"
Garlic and Red Potatoes En Papillote Recipe
16 small (about 2 pounds) red potatoes
16 shallots, peeled
16 cloves garlic, peeled
2 t. salt
1 t. freshly ground pepper
Rosemary-garlic butter (recipe follows)

Preheat oven to 350°F. Slice potatoes 1/4 inch thick. On each of eight 8 inch squares of aluminum foil, place 2 sliced potatoes, 2 shallots, and 2 cloves garlic. Dot each serving with 1 T. rosemary-garlic butter, add 1 T. water, 1/4 t. salt, pinch pepper. Seal packets tightly.

Place packets on a baking sheet; bake 40 minutes. Remove from oven, carefully open packets, and slide contents onto plates. Serve at once.

Servings: 8.

Rosemary Garlic Butter

1/2 C. unsalted butter, softened
2 cloves garlic, minced
2 T. fresh rosemary, minced
1 T. freshly squeezed lemon juice
1/2 t. salt
1/4 t. freshly ground pepper

Combine all ingredients in a small bowl. Mix well. Set aside.

Yield: 1/2 cup.
Back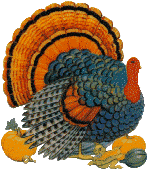 Home

Razzle Dazzle Recipes





http://www.razzledazzlerecipes.com

Don't forget to visit our other Recipe site at
That's My Home

Happy Thanksgiving!