Razzle Dazzle Recipes
"Your Source for Thanksgiving Recipes"
'Gobbling Good' Turkey Salad Recipe

3 T. cider vinegar
2 t. Dijon mustard
1/2 t. salt
1/8 t. ground black pepper
3 T. extra-virgin olive oil
4 C. cooked, diced turkey
2 celery stalks, finely chopped

In a medium bowl whisk vinegar, mustard, salt and pepper together. Slowly whisk in olive oil. Add diced turkey and celery; toss to mix well. Serve turkey salad on your favorite bread for sandwiches, serve over salad greens, or fill avocado or tomato halves.

Makes 4 servings.

Florida Keys Turkey Salad: Prepare turkey salad as above. Stir in 1 large navel orange, peeled and coarsely chopped, 2 scallions, chopped, and 2 teaspoons grated orange peel. Serve salad over watercress.

New England Turkey Salad: Prepare turkey salad as above. Stir in »cup cranberry relish (or leftover cranberry sauce), cup walnuts, toasted and chopped, and cup raisins, optional.

Back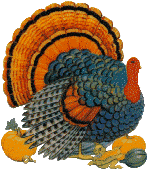 Home

Razzle Dazzle Recipes





http://www.razzledazzlerecipes.com

Don't forget to visit our other Recipe site at
That's My Home

Happy Thanksgiving!