Razzle Dazzle Recipes - Thanksgiving Recipes
"Your Source for Thanksgiving Recipes Online"
Green Bean Casserole From Scratch

2 pounds fresh green beans, trimmed and cut in half

4 cups whole milk

6 tablespoons unsalted butter (divided)

1/4 cup all-purpose flour

Salt and pepper to taste

1 pound button mushrooms, sliced

Fried onion rings:

2 large yellow onions, sliced into thin rings

Whole milk to cover onions

1 cup all-purpose flour

1 teaspoon garlic salt

1 teaspoon salt

1 teaspoon black pepper

Vegetable oil, for frying rings

Heat a pot with plenty of generously salted water. When the water comes to a full rolling boil, add the beans and cook until just tender. Do not crowd the beans or they will turn gray (cook in batches if necessary). Fill a large bowl with ice water and when beans are done, drain and place in the ice water. Once beans have chilled, remove from the ice water and set aside.

In a medium pot, bring the milk to a boil.

While the milk is heating, melt 4 tablespoons of butter in a medium saucepan, then add the flour, mixing with a wooden spoon. Cook flour mixture over medium heat for 3 to 5 minutes, stirring constantly and making sure the flour doesn't brown.

Very gradually pour the boiling milk into the flour mixture, whisking constantly to ensure there are no lumps. Continue to cook the milk mixture, stirring occasionally, until it has thickened, about 10 minutes. Remove from heat, season with salt and pepper and set aside.

Heat a large saute pan over high heat. When hot, add the remaining 2 tablespoons butter and immediately follow with the sliced mushrooms, even before the butter has completely melted. (This will keep the butter from burning while allowing the pan to stay hot enough so the mushrooms saute.)

Saute the mushrooms until lightly browned, and season with salt and pepper. Pour milk mixture into pan with the mushrooms and cook together for a few minutes to meld the flavors. To make onion rings: Place onion rings in a bowl and cover with milk. Place in refrigerator for at least 10 minutes or up to an hour.

In a medium bowl, mix the flour, garlic salt, salt and pepper.

Place enough oil in pot to cover the onion rings (you can fry in batches, if necessary). Heat to 375° F.

Strain milk from onions. Coat onion rings with flour mixture, then fry in the hot oil. Once lightly browned, remove from oil and drain on paper towels To assemble the casserole: Preheat oven to 350° F.

In a large mixing bowl, mix the green beans, mushroom mixture and 1 cup of the onion rings. Taste for seasoning, adding salt and pepper, if necessary.

Spray nonstick cooking spray into an 8-inch square baking pan or any suitable size that will accommodate the beans. Pour mixture into pan and top with the remaining fried onion rings.

Bake for about 45 minutes, or until hot, and serve. Note: Any component of this casserole can be done a day or two ahead, and the whole casserole can be assembled a day in advance.
Back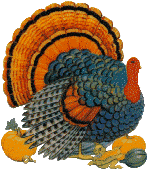 Home

Razzle Dazzle Recipes





http://www.razzledazzlerecipes.com

Don't forget to visit our other Recipe site at
That's My Home

Happy Thanksgiving!