Razzle Dazzle Recipes
"Your Source for Thanksgiving Recipes"
Herb Braised Carrots
10 carrots, peeled and cut into 2-inch pieces on a diagonal
1 C. chicken stock
2 stalks rosemary
6 sage leaves, roughly chopped
2 T. butter
1 t. granulated sugar
salt and pepper to taste

Place all ingredients except salt and pepper in a saucepan over low heat. Cover and cook until tender, about 25 minutes. Check for doneness by piercing with a knife or skewer. Discard rosemary stems before serving. Season with salt and pepper to taste.
Serves 6.

Back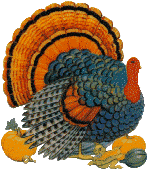 Home

Razzle Dazzle Recipes





http://www.razzledazzlerecipes.com

Don't forget to visit our other Recipe site at
That's My Home

Happy Thanksgiving!