Razzle Dazzle Recipes
"Your Source for Thanksgiving Recipes"
Mashed Sweet Potatoes With Dried Apples Recipe

2 1/2 lbs. sweet potatoes, scrubbed
2/3 C. chopped, dried apples
1/2 C. apple cider
4 T. softened, unsalted butter
1 T. fresh lemon juice
coarse salt

Preheat oven to 450° F. Prick the potato skins in several places. Plop the whole potatoes on a sheet of heavy-duty aluminum foil, or baking sheet. Bake until tender. Cooking times will vary according to the size of the potatoes. Most take 20 to 30 minutes. A good way to test for doneness is to probe the potatoes with a skewer.

Meanwhile, put the apples and cider in a small saucepan. Simmer over low heat until most of the liquid has been absorbed, so the pan is almost dry, 10 to 15 minutes. Remove from the heat.

Peel the sweet potatoes, holding them in a towel to protect your hands from the heat. Drop them into a pot or large bowl. Smash the flesh with a heavy wire whisk, then whisk until smooth. Whisk in the butter. Stir in the apples and lemon juice. Season salt. Serve warm.
Back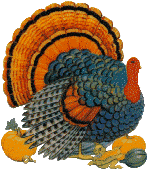 Home

Razzle Dazzle Recipes





http://www.razzledazzlerecipes.com

Don't forget to visit our other Recipe site at
That's My Home

Happy Thanksgiving!