Razzle Dazzle Recipes
"Your Source for Thanksgiving Recipes"
Next Day Turkey Pot Pie

1 medium onion
1 C. carrots
1 C. celery
1 T. vegetable oil
9 oz. frozen chopped spinach
3 C. cooked turkey
1/2 C. country or baked ham
10 3/4 oz. canned cream of chicken soup
2 1/2 C. milk, divided
1/4 t. black pepper
1 1/2 C. self-rising flour
1/4 C. Parmesan cheese
1/2 C. butter or margarine

Heat oven to 400° F. Grease shallow 3-quart baking dish.
In large skillet, cook chopped onion, thinly sliced carrots and thinly sliced celery in vegetable oil until tender. Stir in spinach (thawed and drained); pour into baking dish. Add shredded or chopped turkey and chopped ham; distribute evenly in baking dish.
In medium bowl, combine undiluted soup, 1 cup milk and freshly ground pepper; pour over turkey mixture. In medium bowl, combine remaining milk, flour, grated cheese and melted butter or margarine; stir until smooth. Pour over ingredients in baking dish.
Bake 45-50 minutes or until golden brown.
Makes 6-8 servings.
For individual servings, grease six 2-cup baking dishes. Divide filling among dishes. Top each evenly with crust batter. Bake as directed.
From The Martha White Kitchen.

Back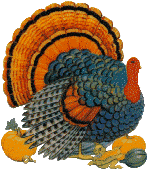 Home

Razzle Dazzle Recipes





http://www.razzledazzlerecipes.com

Don't forget to visit our other Recipe site at
That's My Home

Happy Thanksgiving!