Razzle Dazzle Recipes
"Your Source for Thanksgiving Recipes"
Sweet Onion Pudding

2 C. whipping cream

1 (3-oz.) package shredded Parmesan cheese

6 large eggs, lightly beaten

3 T. all-purpose flour

2 T. sugar

2 t. baking powder

1 t. salt

1/2 C. butter

6 medium sweet onions, thinly sliced

Stir together first 3 ingredients in a large bowl. Combine flour and next 3 ingredients; gradually stir into egg mixture. Set aside.

Melt butter in a large skillet over medium heat; add onion, and cook, stirring often, 30 to 40 minutes or until onion is caramel colored. Remove onion from heat.

Stir onion into egg mixture; spoon into a lightly greased 13- x 9-inch baking dish.

Bake at 350° F. for 30 minutes or until set. Yield: 8 servings.
Back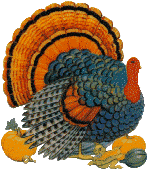 Home

Razzle Dazzle Recipes





http://www.razzledazzlerecipes.com

Don't forget to visit our other Recipe site at
That's My Home

Happy Thanksgiving!