Razzle Dazzle Recipes
"Your Source for Thanksgiving Recipes"
Praline Sweet Potatoes Recipe

4 C. mashed sweet potato - canned or fresh

1/2 C. white sugar

2 T. vanilla extract

4 eggs - beaten

1/2 pint heavy cream

1/4 lb. butter or margarine

1 C. brown sugar

1/2 C. flour

1 1/4 C. chopped pecans

Butter one 2 quart casserole dish. Preheat oven to 350° F.

In a mixing bowl, combine potatoes, sugar, vanilla, eggs, and cream. Blend well. Spread into casserole dish evenly.

Prepare the topping by combining the butter, brown sugar, flour, and pecans. Mix until crumbly and sprinkle over top sweet potato mixture. Bake for 30 minutes.
Serving Size : 6

Back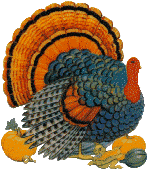 Home

Razzle Dazzle Recipes





http://www.razzledazzlerecipes.com

Don't forget to visit our other Recipe site at
That's My Home

Happy Thanksgiving!