Razzle Dazzle Recipes
"Your Source for Thanksgiving Recipes"
Pumpkin Cranberry Muffins
2 C. Pumpkin puree (canned pumpkin)
3 C. granulated sugar
1 C. buttermilk
1 C. vegetable oil
4 whole eggs
3 C. all-purpose flour
2 t. baking soda
1 t. baking powder
2 t. cinnamon
2 t. powdered ginger
1/2 t. nutmeg, freshly grated is best
3/4 t. ground cloves
1 t. salt
1 C. finely chopped pecans, toasted & cooled
1 C. dried cranberries (Craisins)

Mix together the pumpkin and sugar. Stir in the oil and buttermilk. Beat the eggs lightly and add to the mixture.
Mix together flour, soda, baking powder, spices and salt. Add to the pumpkin mix and stir in until just moistened. Stir in the pecans and cranberries.
Scoop into miniature muffin tins which have been liberally sprayed with oil, or generously buttered. Bake until they dome up and spring back to the touch about 20 - 25 minutes at 350°F.
Back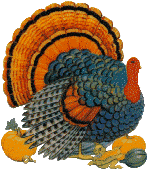 Home

Razzle Dazzle Recipes





http://www.razzledazzlerecipes.com

Don't forget to visit our other Recipe site at
That's My Home

Happy Thanksgiving!