Razzle Dazzle Recipes
"Your Source for Thanksgiving Recipes"
Marmalade Pumpkin Bread Recipe
For the bread:
1 1/2 C. all-purpose flour
1/2 C. packed light brown sugar
1/2 C. granulated sugar
1 T. pumpkin pie spice
1 1/2 t. baking powder
1/2 t. ground cinnamon
1/4 t. salt

3 eggs
2/3 C. solid pack pumpkin
1/3 C. butter, melted
1/4 C. orange marmalade
1 T. orange liqueur or orange juice

For the marmalade glaze:
2 T. orange marmalade
1 T. orange liqueur or orange juice

To make bread:
In a small bowl, combine flour, brown sugar, granulated sugar, pumpkin pie spice, baking powder, cinnamon, and salt; set aside. In a medium bowl, beat eggs. Beat in pumpkin, margarine, marmalade, and liqueur. Beat in dry ingredients.
Spoon into greased 9-by-5-inch loaf pan. Tap on counter to release air bubbles. Bake in preheated 350°F. oven for 40 to 45 minutes or until wooden pick comes out clean. Cool 10 minutes in pan; cool completely on wire rack.
Drizzle with Marmalade Glaze and slice. May be made several days in advance and may be frozen.

To make marmalade glaze:
In small bowl, combine marmalade and liquid. Then drizzle on cooled bread.

Yield: 1 loaf
Back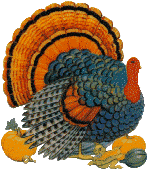 Home

Razzle Dazzle Recipes





http://www.razzledazzlerecipes.com

Don't forget to visit our other Recipe site at
That's My Home

Happy Thanksgiving!