Razzle Dazzle Recipes
"Your Source for Thanksgiving Recipes"
Pumpkin Walnut Bread Recipe

2 C. all-purpose flour
1 t. baking soda
1 t. baking powder
1 t. salt
1/2 t. ground cinnamon
1/2 t. ground cloves
1/2 t. ground ginger
1/2 C. butter, room temperature
3/4 C. plus 1 T. sugar
2 large eggs, room temperature
1 C. canned pure pumpkin (not pumpkin pie filling)
1 1/2 t. grated lemon peel
1 t. vanilla extract
1/2 C. sour cream
1/2 C. whole milk
1 1/2 C. chopped walnuts

Position rack in center of oven; preheat to 325° F. Butter a 9 x 5 x 3-inch metal loaf pan.

Sift first 7 ingredients into medium bowl.

Using electric mixer, beat butter in large bowl until light. Gradually beat in 3/4 cup sugar. Beat in eggs, one at a time. Beat in pumpkin, lemon peel and vanilla. Whisk sour cream and milk in a small bowl. Beat flour and sour cream mixtures alternately into batter in 2 additions each. Fold in nuts. Transfer batter to prepared pan; smooth top. Sprinkle with 1 tablespoon sugar.

Bake bread until tester inserted into center comes out clean, about 70 minutes. Cool in pan 10 minutes, then turn out onto rack. (Can be made two days ahead. Wrap in foil; store at room temperature.)
Makes 1 loaf.

Back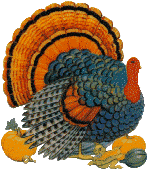 Home

Razzle Dazzle Recipes





http://www.razzledazzlerecipes.com

Don't forget to visit our other Recipe site at
That's My Home

Happy Thanksgiving!