Razzle Dazzle Recipes - Thanksgiving Recipes
"Your Source for Thanksgiving Recipes Online"
Divine Raspberry Salad

Juice from crushed pineapple plus water to make one cup

1 small box lemon gelatin

1 1/2 C. mini marshmallows

8 oz. cream cheese

1/2 pt. whipping cream

2 T. sugar

1/4 t. vanilla

1 can crushed pineapple (2 1/2 cups)

2 cups water

2 small raspberry gelatin

1 lb. package frozen raspberries, thawed

Dissolve lemon gelatin in boiling pineapple juice and water. Pour over marshmallows and cream cheese. Beat with mixer. Whip cream, add sugar and vanilla. Add to gelatin mixture. Fold in crushed pineapple and pour into 9 x 13 pan. Allow to set. Dissolve raspberry gelatin in 2 cups boiling water. Add berries and cool. Spoon over first layer. Refrigerate and let set.

Back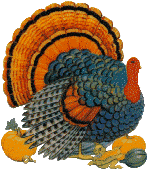 Home

Razzle Dazzle Recipes





http://www.razzledazzlerecipes.com

Don't forget to visit our other Recipe site at
That's My Home

Happy Thanksgiving!