Razzle Dazzle Recipes
"Your Source for Thanksgiving Recipes"
Seven-Layer Salad Recipe

1 lb. bacon
1 medium head lettuce, torn into bite-size pieces
1 medium onion, chopped
1 (10 oz.) package frozen peas, thawed and drained
1 T. sugar
1 C. mayonnaise (or as needed to cover salad)
1/2 C. shredded cheddar cheese

Cook bacon until crisp; crumble and set aside.

Place lettuce in salad bowl. Layer chopped onion and peas over lettuce. Sprinkle with sugar. Top with bacon. Spread mayonnaise over all, covering completely and sealing mayonnaise to edges of bowl. Cover and refrigerate several hours. Sprinkle with cheese just before serving.

Makes 10 to 12 servings.
Back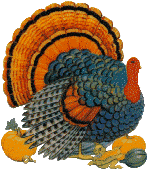 Home

Razzle Dazzle Recipes





http://www.razzledazzlerecipes.com

Don't forget to visit our other Recipe site at
That's My Home

Happy Thanksgiving!