Razzle Dazzle Recipes - Thanksgiving Recipes
"Your Source for Thanksgiving Recipes Online"
Sweet Potatoes with Apricots

8 peeled and cooked sweet potatoes, halved lengthwise

1 1/2 C. light brown sugar, packed

1 1/2 T. cornstarch

1/4 t. salt

1/8 t. cinnamon

1 t. shredded orange peel

1 can (16 oz.) apricot halves, sliced

1 T. butter

1/2 C. pecans

Preheat oven to 350° F. Place drained sweet potatoes in greased 2-quart baking dish. In a saucepan, combine brown sugar, cornstarch, salt, cinnamon, and orange peel.

Drain apricots, reserving syrup. Stir 1 cup apricot syrup into cornstarch mixture. Cook over medium heat until boiling. Stir constantly and let boil 2 minutes. Add apricots, butter and chopped pecans; pour over sweet potatoes. Bake uncovered for 30 minutes or until heated through.

Serves 8.


Back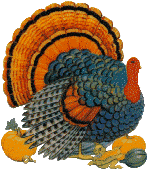 Home

Razzle Dazzle Recipes





http://www.razzledazzlerecipes.com

Don't forget to visit our other Recipe site at
That's My Home

Happy Thanksgiving!