Razzle Dazzle Recipes - Thanksgiving Recipes
"Your Source for Thanksgiving Recipes Online"
Sweet and Sour Green Beans

2 C. fresh green beans cooked

4 slices bacon fried crisp

1/2 C. onion diced

1 T. flour

1/4 C. vinegar

3 T. sugar

3/4 C. liquid from the beans

1 t. salt

Cook the beans in boiling water until tender. Fry the bacon until crisp in a skillet. Remove bacon and fry onions until tender. Sprinkle flour over the onions and stir to mix. Add remaining ingredients except beans and bacon. Bring mixture to a boil. Stir in beans and heat
thoroughly. Top with crumbled bacon and serve.
Back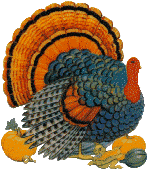 Home

Razzle Dazzle Recipes





http://www.razzledazzlerecipes.com

Don't forget to visit our other Recipe site at
That's My Home

Happy Thanksgiving!