Razzle Dazzle Recipes
"Your Source for Thanksgiving Recipes"
Sweet Onions Stuffed with Broccoli Recipe
3 medium sweet onions, such as Vidalias
1 (10 oz.) package frozen chopped broccoli
2/3 C. shredded Parmesan cheese
1/4 C. mayonnaise
2 t. lemon juice
2 T. flour
2 T. butter
1/4 t. salt
2/3 C. milk
1 (3 oz.) package cream cheese, softened

Peel and halve onions crosswise. Parboil in salted water 10 minutes; drain. Lift out centers, leaving 3/4-inch edges to form cups. Chop center portions to equal 1 cup. Cook or microwave broccoli and drain (or simply thaw). Combine chopped onions, broccoli, Parmesan, mayo and lemon juice. Spoon into centers of onion cups set side by side in baking pan. Have oven heating to 375°F.

Melt butter in small saucepan. Blend in flour and salt. Remove from heat and gradually whisk in milk. Return to heat and cook until thickened, stirring constantly. Remove from heat; blend in cream cheese. Spoon sauce over onions. Bake, uncovered, for 20 minutes.
Yield: 6 servings
Back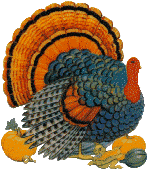 Home

Razzle Dazzle Recipes





http://www.razzledazzlerecipes.com

Don't forget to visit our other Recipe site at
That's My Home

Happy Thanksgiving!