Razzle Dazzle Recipes
"Your Source for Thanksgiving Recipes"
Sweet Potato Biscuits Recipe
5 C. all-purpose flour, plus more for rolling
1 C. packed light brown sugar
2 T. baking powder
1 1/2 t. ground cinnamon
1 t. salt
1 t. ground ginger
1/2 t. ground allspice
1 cup shortening
2 C. cooked and cooled mashed sweet potatoes (see note)
1 C. whipping cream
1/2 C. coarsely chopped pecans

Preheat oven to 350°F.

Stir together the flour, brown sugar, baking powder, cinnamon, salt, ginger and allspice in a large mixing bowl. Cut in the shortening with two knives or a dough cutter until crumbly. Add the sweet potatoes and mix well with a wooden spoon. Add the cream and pecans and stir just until moistened.

Turn out the dough onto a lightly floured surface. Roll out to a thickness of 1 1/2 inches. Cut out biscuits with a floured 2 inch biscuit cutter. Place the biscuits one inch apart on ungreased baking sheets. Bake until golden brown, 25 to 30 minutes. Serve hot, or cool on a wire rack to room temperature.

Note: To cook sweet potatoes, bake them whole in a 400°F. oven on a sheet of aluminum foil to catch the drips. They should be done in about one hour, depending on their size. They're ready when very tender. To get two cups, you'll need to bake 1 1/2 pounds of sweet potatoes. Or, sweet potatoes can be boiled in their skins until fork tender, about 40 minutes.
Back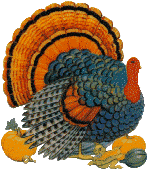 Home

Razzle Dazzle Recipes





http://www.razzledazzlerecipes.com

Don't forget to visit our other Recipe site at
That's My Home

Happy Thanksgiving!