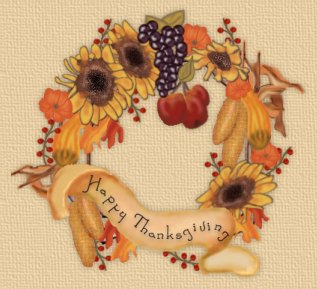 Thanksgiving Day Menu with Recipes
Deep Fried Turkey
Cranberry Chutney

Herbed Potato Pie

Sweet Potato Bake

Mayflower Succotash

Parker House Rolls
Pumpkin Maple Cake with Candied Pecans
and Caramel Sauce
Mayflower Pudding

Deep Fried Turkey
You'll need an outdoor cooker and a 10 gallon pot, preferably one with a basket insert. The insert keeps the bird off the bottom of the pot and facilitates removing it from the oil. If you don't have a basket, tie the legs with a heavy cotton rope to help get the turkey out of the pot. This recipe should be made outdoors; making it in the kitchen is too dangerous.


4 to 5 gallons vegetable oil
1 whole turkey (12 to 15 pounds), at room temperature
Brine for turkey

Begin heating the oil in a 10-gallon pot over a very hot propane flame outdoors. It will take about 20 minutes for the oil to heat.

Remove turkey from brine and pat dry with paper towels. At this time if desired, rub the turkey inside and out, with a mixture of:

4 T. sage
3 t. oregano
3 t. thyme
2 crushed bay leaves

When the oil reaches 375° F., place the turkey in the basket and set it on a baking sheet and take the turkey outside to the cooker.

Check the temperature of the oil. When the oil reaches 390° F., carefully and slowly lower the basket with the turkey into the oil. Be careful! Immediately check the oil temperature and adjust the flame so that the temperature does not dip below 340° F. You want to maintain the temperature at 365° F.

Whole turkeys take only 3 to 4 minutes per pound to fry to perfection: small ones, around 12 pounds, will take about 35 minutes; large ones, around 15 pounds, will take about 1 hour. When it is done, the turkey will float to the surface with a perfectly crispy, brown skin. If you are unsure, you can test the meat for doneness at the hip joint or insert a meat thermometer into the breast; it should register 180° F.

Carefully remove the turkey from the oil and hold it over the pot for a moment to allow any excess oil to drain back into the pot, then lay the bird on the oven rack. Allow it to rest for 20 minutes before carving.

Makes 20 servings.
Brine for Turkey

Serves: 10 to 12

Ingredients:

2/3 C. Kosher salt
1/2 C. plus 2 T. brown sugar
1/4 C. black pepper, cracked
Pinch dried thyme
10 cloves
10 allspice, cracked
3 bay leaves
10 garlic cloves (optional)
Water

Combine salt, herbs and water in a pan and bring to a boil, then simmer for 10 minutes. Allow the mixture to cool.

Place turkey in a pan large enough to hold the turkey and the brine. Cover with foil and refrigerate 6 hours or overnight, turning 2 or 3 times to make sure turkey is totally submerged.

Remove turkey from brine and pat dry with paper towels.

Cranberry Chutney
1 C. water
4 C. fresh cranberries
1 C. raisins
2 C. sugar
1/2 t. ginger
1 t. cinnamon
1/2 t. allspice
1/2 t. salt
1 (8 oz.) can crushed pineapple, drained (add juice to water to make 1 cup)

Mix all the ingredients together, except for the pineapple and raisins. Mix well. Cook over medium heat until the cranberries begin to pop. Add the pineapple and raisins. Cook for another 20 minutes, until mixture thickens. Refrigerate for up to 2 weeks.

Herbed Potato Pie
10 baking potatoes washed and unpeeled
4 cloves garlic minced
4 shallots chopped
3 T. fresh parsley
1 T. fresh herbs (thyme, rosemary, sage, basil, oregano...pick one)
1 C. asiago cheese
4 T. parmesan cheese
1 C. chicken broth
salt and freshly ground pepper

Preheat oven to 350° F. Slice potatoes into 1/8 inch slices. Coat a 12 inch round baking dish with butter. Slightly overlap potato slices in the bottom to form a spiral.

Combine asiago cheese, garlic, shallots, parsley, salt and pepper in a small bowl. Sprinkle 1/3 of this mixture over the potatoes. Add two more layers of potatoes and cheese.

Pour chicken broth over to cover potatoes. Sprinkle with parmesan cheese.

Bake for 45 minutes or until potatoes are tender. Cut into wedges and serve.


Sweet Potato Bake
4 medium sweet potatoes peeled and diced
4 T. butter
2 T. heavy cream
1/4 C. brown sugar
2 large eggs well beaten
1/2 C. milk
1 T. vanilla
1 t. cinnamon

Topping:
1 C. brown sugar
1/3 C. flour
1/3 stick butter softened
1 C. chopped pecans

Preheat the oven to 350° F.

Place the sweet potatoes in a saucepan and cover them with water. Bring to a boil and reduce to heat to medium .Cook for about 20 minutes, until sweet potatoes are tender. Drain well.

Place potatoes in a large bowl and mash them with the butter and cream. Whip in the brown sugar, eggs, vanilla, cinnamon and milk. Beat until smooth. Spoon the mixture into a 13 x 9 inch pan.

Combine the topping ingredients together in another bowl. Sprinkle the mixture over the sweet potatoes. Bake until brown, about 35 minutes.

Mayflower Succotash
3 C. fresh kernel corn
3 C. fresh lima beans
3 C. fresh green beans
1/2 to 1 C. cream
3 T. butter
salt and pepper to taste

Cook vegetables in water until tender. Pour off water when finished cooking. Add cream and butter. Heat until cream is warm and butter has melted. Season with salt and pepper.

Parker House Rolls
1 package yeast
1 t. sugar
1/4 C. warm water
1 1/4 C. warm buttermilk
1/4 C. softened butter - cut into small chunks
1/4 C. sugar
2 t. salt
5 to 6 C. all purpose or bread flour
1/2 C. unsalted butter - melted

In a large bowl, sprinkle sugar and yeast over warm water and stir briefly. Let stand, about 5 minutes, until yeast starts to bubble. Stir in buttermilk, butter, sugar, salt and most of flour. Knead to make a soft dough, adding more flour as required. Knead about 8 minutes until smooth and elastic.

Place in a lightly greased bowl and cover. Allow to rise until doubled.

Divide dough in half. Then divide each dough half into 12 portions. Cut each into three chunks and dip in melted butter. For more traditional looking rolls, form the chunks into small balls. Place the three balls or chunks into each well of a 12 cup muffin pan. Drizzle any leftover melted butter over rolls. Allow to rise until doubled in bulk.

Preheat oven to 375° F. and bake for ten minutes. Reduce heat to 350° F. and bake until lightly browned (about another 15 minutes).

Makes 24 rolls.

Pumpkin Maple Cake with Candied Pecans and Caramel Sauce
2 1/2 C. unbleached flour
2 t. baking powder
3/4 t. baking soda
3/4 t. salt
1/2 t. allspice
1 3/4 t. cinnamon
1/2 t. ground cloves
2 t. nutmeg
6 oz. (1 1/2 sticks) unsalted butter, room temperature
1 1/2 C. sugar
3 eggs, separated, at room temperature
1/2 C. maple syrup
1 3/4 C. canned pumpkin (not pie filling)
1/2 t. maple flavoring

Caramel Sauce, optional (recipe follows)
Candied Pecans, optional (recipe follows)

Position rack in center of oven and preheat to 350° F. Line a 9-inch springform pan with parchment or wax paper. Butter pan and paper. Sift together flour, baking powder, baking soda, salt, allspice, cinnamon, cloves and nutmeg. With a mixer, cream butter and sugar until light and fluffy. Add egg yolks one at a time, beating for 1 minute after each addition. Add syrup, pumpkin and maple flavoring, and mix until combined.

In a separate, clean bowl, beat whites until soft peaks form. Fold flour mixture into butter mixture, then fold in whites. Pour into pan and bake for 50 to 60 minutes, until pick comes out clean. Cool cake for 30 minutes. Serve plain or top slices with Caramel Sauce and Candied Pecans.

Candied Pecans

6 C. large pecan pieces
3/4 C. sugar
3/4 C. brown sugar
3/4 t. salt
4 t. cinnamon
1/2 C. melted margarine

Preheat oven to 325° F. In a bowl, combine all ingredients, tossing until well-mixed. Spread evenly on a baking sheet and bake, tossing frequently, for 10 to 12 minutes, until pecans are crunchy. Cool thoroughly before storing in an airtight container.

Caramel Sauce

2 1/2 C. sugar
1/4 C. water
3 C. whipping cream
2 t. vanilla
1/4 C. plus 2 T. maple syrup
2 t. maple flavoring
2 T. lemon juice
1/2 t. salt

Put sugar and water in a nonreactive pan over medium-low heat, and stir until sugar dissolves. Cover pan and cook, checking frequently,10 to 15 minutes until mixture turns amber. Remove lid and cook, watching closely, until it is deep amber. Keep warm over lowest setting. In a pan over low heat, combine cream, vanilla, syrup, flavoring, lemon juice and salt. Add caramelized sugar in a thin stream, stirring. Simmer for 5 minutes. Store refrigerated; bring to room temperature before serving.

Makes 12 servings. You should only need half of the nuts, so you can half the recipe if you desire.

Source: Mary Bacon owner of Anotherthyme

Mayflower Pudding
1 C. cracked wheat
1/8 t. ground mace
1 quart milk
1/2 t. cinnamon
3/4 C. milk
1/4 C. brown sugar
1/2 C. heavy cream
2 egg yolks
1/2 t. salt
additional brown sugar

In a large pot, bring the water to a boil and add the wheat. Lower heat to simmer, cover, and continue to cook for 1/2 hour, or until, soft. Drain off all the water and add the milk, cream, salt, mace, cinnamon and sugar. Continue to simmer, stirring occasionally, until most of the liquid is absorbed (20 to 30 minutes). In a small bowl, beat the egg yolks and slowly stir 1/2 cup of the wheat mixture into the yolks. Then stir the yolk mixture into the pot, and continue cooking for another 5 minutes, stirring frequently. Serve sprinkled with brown sugar.

This is also called Indian Pudding. It is very similar to what may have been served at the first Thanksgiving.

Thanksgiving Recipe Sections
More Dessert Recipes can be found at That's My Home



Graphics from Majestic Mountain
Razzle Dazzle Recipes
Copyright © 2002 - 2005