Razzle Dazzle Recipes - Thanksgiving Recipes
"Your Source for Thanksgiving Recipes Online"
Turkey Stuffing Bread Recipe

1 cup plus 1 T. milk (70° F. to 80° F.)

1 egg

1 T. butter or margarine, softened

2 T. brown sugar

1-1/2 t. salt

1/3 cup cornmeal

3 cups bread flour

4-1/2 t. dried minced onion

1-1/2 teaspoons celery seed

3/4 t. poultry seasoning

1/2 t. rubbed sage

1/2 t. pepper

2-1/4 t. active dry yeast

In bread machine pain, place all ingredients in order suggested by manufacturer. Select basic bread setting. Choose crust color and loaf size if available. Bake according to bread machine directions (check dough after 5 minutes of mixing; add 1 to 2 T. of water or flour if needed).

Yield: 1 loaf (1-1/2 lbs).
Source: Chyrel
Back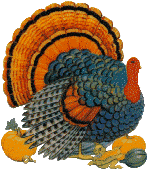 Home

Razzle Dazzle Recipes





http://www.razzledazzlerecipes.com

Don't forget to visit our other Recipe site at
That's My Home

Happy Thanksgiving!