Razzle Dazzle Recipes
"Your Source for Thanksgiving Recipes"
Turkey Casserole Recipe

2 C. cooked turkey breast, cut into bite-sized pieces

2 C. sliced celery

1 C. mayonnaise

3 T. grated onion

1 to 1-1/2 T. lemon juice

1/4 C. slivered almonds

1 C. grated cheese

1/2 C. chow mein noodles

Preheat oven to 350° F. In a 2-quart casserole, combine turkey, celery, mayonnaise, onion, and lemon juice. Top with almonds, cheese, and noodles. Bake about 30 minutes.

Back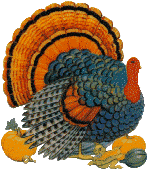 Home

Razzle Dazzle Recipes





http://www.razzledazzlerecipes.com

Don't forget to visit our other Recipe site at
That's My Home

Happy Thanksgiving!