Razzle Dazzle Recipes - Thanksgiving Recipes
"Your Source for Turkey Recipes Online"
Achiote Butter-Basted Turkey with Ancho Chili Gravy
2 fresh poblano chilies
3 dried ancho chilies, stemmed, halved and seeded
1 22 to 24 pound turkey, giblets discarded
1 large white onion, quartered
3/4 C. butter, room temperature
3 T. achiote paste (available in Latin American markets)
4 C. chicken stock
1/4 C. Masa Harina (corn tortilla mix, available in Latin American markets and many supermarkets)
salt and pepper to taste

Char the poblano chilies over a gas flame or in a broiler until blackened on all sides. Enclose chilies in a paper or plastic bag. Let stand 10 minutes to steam. Peel and seed chilies.

Toast ancho chilies in a heavy, large skillet over high heat until the color darkens slightly and the chilies are fragrant, about 30 seconds per side. Transfer the ancho chilies to a medium-size bowl. Add enough hot water to the bowl to cover the chilies. Let stand until the chilies soften, about 20 minutes.

Puree four ancho chili halves with 1/2 cup soaking liquid in a blender. Add the roasted poblano chilies; puree. Season with salt and pepper. Drain the remaining two chili halves; chill. (Puree and soaked chilies can be made one day ahead. Cover separately and chill.)

Preheat oven to 350°F. Rinse the turkey inside and out, and pat dry. Sprinkle the turkey with salt and pepper. Cut the remaining two ancho chili halves into strips. Place the chili strips and onion in the turkey cavity.

Mix the butter and achiote paste in a small bowl to blend. Run your fingers between the turkey breast skin and meat to loosen. Rub half of the achiote butter over turkey breast under skin. Rub butter over the outside of turkey. Place turkey in a large roasting pan. Tuck wings under the turkey. Tie legs together to hold shape. Pour 1 1/2 cups of stock into the pan.

Roast the turkey 45 minutes. Tent the turkey loosely with foil. Continue roasting until a meat thermometer inserted into the thickest part of the thigh registers 180°F, basting every 30 minutes with pan juices, about 3 1/2 hours. Transfer the turkey to platter. Tent with foil.

Pour the turkey pan juices into a measuring cup. Spoon off the fat from the pan juices, reserving 1/4 cup of fat. Add enough remaining stock to the pan juices to measure 3 cups. Return ¼ cup fat to the roasting pan. Place the pan over two burners set at medium heat. Add the Masa Harina; whisk until the mixture resembles a paste, scraping up any browned bits, about 2 minutes. Gradually whisk in the pan juices. Add chile puree; simmer 4 minutes to blend the flavors. Season gravy with salt and pepper. Serve turkey with gravy.

Makes 14 servings.
Back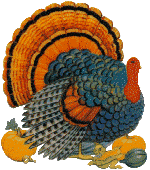 Home

Razzle Dazzle Recipes




http://www.razzledazzlerecipes.com

Don't forget to visit our other Recipe site at
That's My Home