Razzle Dazzle Recipes - Thanksgiving Recipes
"Your Source for Turkey Recipes Online"
Apple Stuffing Recipe

1/4 C. chopped onions

1/4 C. chopped celery

2 T. margarine

4 C. dry bread cubes

1/2 t. poultry seasoning

1/2 t. dried sage

1 C. diced, unpeeled apples

1/2 t. dried sage

Freshly-ground black pepper

1/2 C. chicken broth

Cook onions and celery in margarine for 5 minutes, or until tender. Combine onions and celery with all other dry ingredients. Add broth, and toss.
Yields stuffing for a 10 to 12 pound turkey.
Back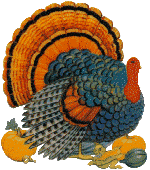 Home

Razzle Dazzle Recipes



http://www.razzledazzlerecipes.com

Don't forget to visit our other Recipe site at
That's My Home