Razzle Dazzle Recipes - Thanksgiving Recipes
"Your Source for Turkey Recipes Online"
Baked Cranberry Pork Chops

4 pork shoulder chops
1 t. onion powder
1 (16-oz.) can jellied cranberry sauce
2 T. light brown sugar
3 T. water, divided
1 t. ground ginger
6 t. ground nutmeg
2 C. julienned carrots
1 t. cornstarch
1 t. dried parsley flakes

Preheat oven to 375° F. Sprinkle chops on both sides with onion powder; set aside. In a medium-size saucepan, heat cranberry sauce, brown sugar, 2 tablespoons water, ginger and nutmeg until cranberry sauce is melted, about 2 minutes.

Place carrots in a 2 1/2-quart casserole; arrange pork chops over carrots. Spoon cranberry sauce mixture evenly over pork chops.

Cover and bake until pork is thoroughly cooked, about 45 minutes. Remove chops to a serving plate; scatter carrots over chops. Pour sauce remaining in casserole into a medium-size saucepan. In a small bowl, combine cornstarch with remaining 1 tablespoon water; stir into saucepan and cook, stirring, until sauce is clear and thickened, about 2 minutes. Spoon over pork chops; sprinkle with parsley flakes. Makes 4 servings.
Back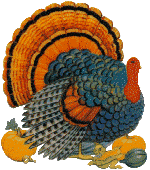 Home

Razzle Dazzle Recipes



http://www.razzledazzlerecipes.com

Don't forget to visit our other Recipe site at
That's My Home