Razzle Dazzle Recipes - Thanksgiving Recipes
"Your Source for Turkey Recipes Online"
Bardstown Holiday Turkey Recipe
3 T. bourbon
10- to 12-lb. turkey, fresh or thawed
Aromatics, optional (see directions)
2 T. softened butter
salt and pepper

Glaze:
1/2 C. bourbon
1 C. orange marmalade
1/8 t. ground allspice
1/8 t. grated nutmeg
Garnishes: Bundled herbs, orange slices or kumquats, grape clusters

Heat oven to 325°F. and set rack at lower level; remove other racks.

Unwrap and rinse turkey, being sure bags of giblets and neck are removed from both the neck and body cavities. In other words, check fore and aft, reaching in as far as possible so as not to miss a giblet bag.

Rinse turkey inside and out. Pat dry with paper towels. Sprinkle the 3 tablespoons bourbon, salt and pepper inside turkey cavity. Tuck in aromatics as desired, such as citrus slices, a whole peeled onion stuck with cloves, celery or carrot sticks and herb sprigs. These will not be served and may be discarded before carving.

Twist wings behind bird's back and tie drumsticks near "ankles" or return to "hock lock." Place turkey breast-side up on a rack (preferably a V-rack) in shallow roasting pan (some like to line the pan with foil). Spread softened butter evenly over surface of turkey. Roast about 3 hours or until the internal temperature is 175 - 180°F. inside turkey thigh, thermometer not touching bone. If using an instant-read thermometer, do not allow it to remain in the oven even a minute. Just insert, read and pull it out before closing oven door again. Juices running clear and a drumstick that can be wiggled are less reliable indicators of doneness. If roasting turkey breasts only, thermometer should reach 165-170°F. in thickest part of meat. If skin over breast is well-browned, shield with a loose tent of foil for last part of roasting.

Prepare glaze in advance. Combine 1/2 cup bourbon, marmalade and spices in saucepan. Cook over high heat, stirring occasionally, until mixture boils. Reduce heat to medium and simmer 10 minutes or until glaze is reduced to 1 cup. Brush half the glaze over turkey after roasting an hour or so. Brush with remaining glaze about 20 minutes before turkey is done. Transfer whole bird to a serving platter (the point of glazing the bird), garnish with citrus or grapes and herbs and let rest on buffet 20 minutes for internal juices to set. Return to the kitchen and transfer it to a large cutting board before carving.
Yield: 10 servings

Recipe adapted from the "Jim Beam Family Recipe for Holiday Entertaining" booklet. Jim Beam's grandson, Booker Noe of Bardstown, Ky., continues the family's legacy begun by Jacob Beam, his great-great-great-grandfather, who arrived in Kentucky in 1788, carrying the makings of a copper still.
Back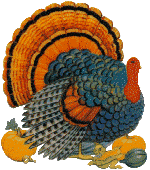 Home

Razzle Dazzle Recipes



http://www.razzledazzlerecipes.com

Don't forget to visit our other Recipe site at
That's My Home