Razzle Dazzle Recipes - Thanksgiving Recipes
"Your Source for Turkey Recipes Online"
Best Herb Stuffing Recipe

1 loaf (1 pound) Italian bread or French bread, cut into 1/2-inch cubes, about 12 cups
6 T. unsalted butter
3 ribs celery, diced
1 large onion, diced
2 t. dried sage
2 t. dried thyme
1 t. salt
freshly ground pepper
1 C. each: dried cranberries, toasted chopped pecans (see note)
2 eggs, lightly beaten
2 C. chicken broth

Heat oven to 250° F. Place bread cubes on baking sheet. Bake until cubes are dry and brittle, about 20 minutes. Transfer to large bowl.

Increase oven temperature to 350° F. Melt butter in large skillet over medium-high heat. Cook celery and onion, stirring occasionally, until soft and translucent, about 8 minutes. Stir in sage, thyme, salt and pepper to taste; cook until fragrant, about 1 minute. Transfer mixture to bowl with bread cubes. Add cranberries and pecans. Mix to combine all ingredients. Add eggs and broth; toss gently to combine.

Turn mixture into greased 13 x 9-inch baking dish. Bake, covered with foil, 45 minutes. Remove foil; bake until brown and crusty on top, about 15 minutes. Alternatively, stuff mixture into turkey cavity just before roasting.
Yield: 8 servings

Note: To toast pecans, spread nuts on baking sheet. Toast in 325° F. oven until fragrant, about 5 minutes. Or place in dry skillet and cook over medium heat, stirring occasionally, until fragrant, about 4 minutes.
Back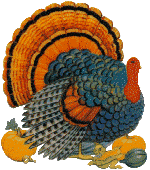 Home

Razzle Dazzle Recipes



http://www.razzledazzlerecipes.com

Don't forget to visit our other Recipe site at
That's My Home