Razzle Dazzle Recipes - Thanksgiving Recipes
"Your Source for Turkey Recipes Online"
Brined Turkey Breast Recipe

9 C. hot water
3/4 C. salt
1/2 C. sugar
4 to 6 lbs. bone-in whole turkey breast, thawed
1 onion, cut into eighths
2 fresh rosemary sprigs
4 fresh thyme sprigs
3 dried bay leaves
Salt and pepper if desired
6 T. butter, melted
1/4 C. dry white wine or chicken broth

Mix water, salt and sugar in 6-quart container or stock pot. Stir until sugar and salt are dissolved. Add turkey breast. cover and refrigerate at least 12 hours but no longer than 24 hours.

Heat oven to 325° F. Remove turkey from brine, rinse with cool water and pat dry.

Place turkey, breast meat side up, on rack in large shallow roasting pan. Fill cavity with onion and herbs. Sprinkle with salt and pepper. Insert meat thermometer so tip is in thickest part of turkey and does not touch bone.

Mix melted butter and wine. Soak a 16-inch square of cheesecloth in butter mixture until saturated; cover turkey with cheesecloth. Bake 1 hour 30 minutes.

Remove cheesecloth. Remove onion and herbs from turkey, but leave turkey in pan. Bake 30-60 minutes longer or until thermometer reads 170° F. and juice of turkey is no longer pink when center is cut.
8-12 servings.

Back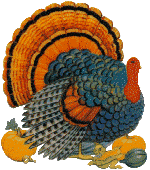 Home

Razzle Dazzle Recipes



http://www.razzledazzlerecipes.com

Don't forget to visit our other Recipe site at
That's My Home