Razzle Dazzle Recipes - Thanksgiving Recipes
"Your Source for Turkey Recipes Online"
Brine-Roasted Turkey

2 gallons (32 cups) water
2 C. kosher salt
2 C. packed brown sugar
2 T. peppercorns, coarsely cracked
1 (12- to 14-pound) fresh turkey
2 T. unsalted butter, at room temperature
Salt and freshly ground pepper, to taste

The night before roasting the turkey, make the brine. In a medium saucepan, combine 4 cups of water, the kosher salt and the sugar, and heat over medium heat, stirring, until the salt and sugar dissolve. Remove the pan from the heat, stir in the peppercorns, and let cool.

Rinse the turkey inside and out. Place the turkey in a very large pot, and add the remaining 28 cups of water and the brown sugar mixture, stirring to blend. If your pot isn't quite large enough, use less water and slightly less of the brown sugar mixture. If the brine doesn't quite cover the turkey, place it breast side up to start, then turn over after a few hours. Refrigerate for 12 to 15 hours.

Remove the turkey from the brine, discard the brine, and rinse the turkey thoroughly under cold running water. Pat dry and refrigerate.

Preheat the oven to 325° F.

Rub the butter all over the turkey, and season with salt and pepper. Tuck the turkey wings under the back, and, if necessary, tie the legs together with kitchen string. Place the turkey, breast side up, on a rack in a roasting pan, and roast, basting every 30 minutes with the pan juices, for 1 hour. Cover the turkey breast loosely with a foil tent, and roast for 2 1/2 to 3 hours longer, or until an instant-read thermometer inserted into the thickest part of the thigh, away from the bone, registers 180° F.; about 45 minutes before the turkey is done, remove the foil tent. Let the turkey stand, loosely covered with foil, for about 20 minutes before carving.

Serves 8.
Back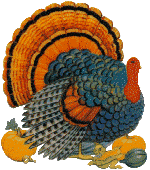 Home

Razzle Dazzle Recipes



http://www.razzledazzlerecipes.com

Don't forget to visit our other Recipe site at
That's My Home

Razzle Dazzle Recipes
"Your Source for Thanksgiving Recipes"