Razzle Dazzle Recipes - Thanksgiving Recipes
"Your Source for Turkey Recipes Online"
Cherry-Pecan Stuffed Turkey Recipe

3/4 C. chopped onion

3/4 C. butter

3 T. sweet Marsala, dry sherry, or chicken broth

3/4 t. salt

3/4 t. paprika

3/4 t. dried thyme, crushed

1/4 t. white pepper

6 C. soft bread crumbs

1-1/2 C. sliced celery

1 C. dried tart cherries

3/4 C. coarsely chopped pecans

1/4 C. chicken broth

1 10- to 12 lb. turkey*

For stuffing, in a medium skillet, cook onion in butter till tender but not brown. Stir in the Marsala, sherry, or broth; salt; paprika; thyme; and white pepper. Transfer the ingredients to a large bowl. Add bread crumbs, celery, cherries, and pecans; toss to mix well. Drizzle with the chicken broth; toss.

Rinse the turkey and pat dry. Spoon some of the stuffing into the neck cavity; fasten the neck skin with a skewer. Lightly spoon the prepared stuffing into the body cavity. Tie the drumsticks to the tail. Place the turkey, breast side up, on a rack in a shallow roasting pan. Insert a meat thermometer into the thigh muscle.

Roast the turkey, uncovered, in a 325° F. oven for 3 to 3-3/4 hours or until the meat thermometer registers 180° F to 185° F (cut string between drumsticks when the bird is two-thirds done). Let roasted turkey stand, covered, 15 to 20 minutes before carving.

Back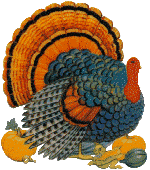 Home

Razzle Dazzle Recipes



http://www.razzledazzlerecipes.com

Don't forget to visit our other Recipe site at
That's My Home