Razzle Dazzle Recipes - Thanksgiving Recipes
"Your Source for Turkey Recipes Online"
Chili Orange Glaze for Oven-Roasted Turkey Recipe

3 T. ground dried New Mexico or California chilies (or 3 T. chili powder)

12 oz. frozen orange juice concentrate (1 large container) - thawed

2 T. grated orange peel

1 t. ground cumin

Mix ground chilies (or chili powder), orange juice concentrate, orange peel, and cumin.

The last 20 minutes the turkey cooks (at bone, the temperature in the breast will be about 150° F. for birds up to 18 lb., 115° F. for birds over 18 lb), spread glaze generously over turkey.

Continue to cook until a thermometer inserted into the thickest part of the turkey breast to the bone registers 160° F. If glaze start to get very dark, drape dark areas with foil.

Makes: Enough to glaze a 12 to 24-pound turkey.
Back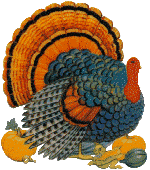 Home

Razzle Dazzle Recipes



http://www.razzledazzlerecipes.com

Don't forget to visit our other Recipe site at
That's My Home