Razzle Dazzle Recipes - Thanksgiving Recipes
"Your Source for Turkey Recipes Online"
Apple Pecan Cornbread Dressing Recipe

1 (16 oz.) package dry cornbread mix
1 (8 oz.) container herb-seasoned dry bread stuffing mix
2 T. chopped fresh parsley
1/2 t. salt
1/2 t. ground ginger
3/4 C. butter
1 C. chopped celery
1 C. chopped onion
2 C. chopped apples
1/2 C. chopped pecans
2 C. apple juice
3 eggs, beaten

Prepare cornbread according to package directions; cool and crumble. Preheat oven to 350° F. Butter a 3-quart casserole dish. In a large bowl, combine cornbread, stuffing mix, parsley, salt and ginger.

In a heavy saucepan, melt butter and sauté celery and onion 8 to 10 minutes or until tender. Add to cornbread mixture; mix well. Stir in apples, pecans, apple juice and eggs. Toss lightly. Spoon dressing into prepared casserole. Bake 30 to 35 minutes.
Makes 6 to 8 servings.
Back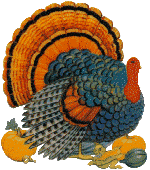 Home

Razzle Dazzle Recipes



http://www.razzledazzlerecipes.com

Don't forget to visit our other Recipe site at
That's My Home