Razzle Dazzle Recipes - Thanksgiving Recipes
"Your Source for Turkey Recipes Online"
Roasted Game Hens For Two Recipe

Pine Nut Rice Stuffing (recipe follows)

2 Rock Cornish game hens (1 to 1 1/2 pounds each)

Salt

4 slices uncooked bacon

Make stuffing; set aside.

Preheat oven to 425° F. Pat game hens dry. Salt inside and out.

Truss birds: Fold wing tips back under upper part of wings and tie legs together with kitchen twine.

Lay 2 strips of bacon across breast of each bird. Set birds on rack in roasting pan; set pan on middle rack of oven. Roast for 30 minutes; discard bacon strips; baste birds with pan juices. Continue roasting until thickest part of thigh registers 180° F. and breast registers 170° F., about 15 minutes more. Baste again as birds are removed from oven.

Let birds stand 10 minutes before serving.

Pine Nut-Rice Stuffing

1 C. cooked white rice

1/4 C. minced onion

1/4 C. pine nuts

2 T. chicken broth

Preheat oven to 400° F.

In medium bowl, mix rice, onion and pine nuts. Moisten with chicken broth.

Spoon mixture into buttered baking dish; bake until center of stuffing registers 165° F., about 30 minutes.
Makes 1 1/2 cups.
Back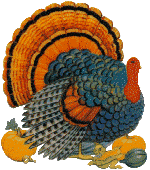 Home

Razzle Dazzle Recipes



http://www.razzledazzlerecipes.com

Don't forget to visit our other Recipe site at
That's My Home