Razzle Dazzle Recipes - Thanksgiving Recipes
"Your Source for Turkey Recipes Online"
Crock-Pot Turkey Breast Recipe

1 turkey breast (6 to 6-1/2 pounds), frozen (see note)

2 t. vegetable oil

Salt and black pepper, to taste

1 medium onion

4 garlic cloves

Rinse the turkey and pat it dry with paper towels. Rub the turkey all over with the oil. Sprinkle the breast lightly with salt and pepper to your preference. Place the breast, meaty side up, into a 5-quart slow cooker.

Peel the onion, cut it into quarters, and place the pieces around the edges of the pot. Peel the garlic cloves and place them around the sides of the cooker. Cover the cooker and cook the breast on low for 9 hours, or until a meat thermometer registers 170° F.

Remove the breast from the cooker (discard the vegetables) and let the bird stand at least 15 minutes before slicing. (The internal temperature will continue to rise while the bird is standing.)
Makes about 8 servings.

Note: If the turkey breast is not frozen, check for doneness (170° F.) with a meat thermometer after 7-1/2 to 8 hours of cooking on low.
Back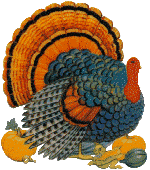 Home

Razzle Dazzle Recipes



http://www.razzledazzlerecipes.com

Don't forget to visit our other Recipe site at
That's My Home