Razzle Dazzle Recipes - Thanksgiving Recipes
"Your Source for Turkey Recipes Online"
Double Cornbread Dressing

4 slices bacon
1 C. chopped onion
1 C. chopped celery
2 C. self-rising cornmeal mix
2 (15-oz.) cans cream-style corn
1 C. sour cream
1 stick butter, cut in small bits
3 eggs, beaten to blend
2 T. chopped fresh parsley
1 t. poultry seasoning or pinch of sage
1/2 t. milled pepper

Heat oven to 350° F. Spray a 13 x 9-inch baking pan; set aside. Fry bacon until crisp; drain on paper towels. Crumble and set aside. Reserve 2 tablespoons bacon drippings. Stir in onion and celery; cook until translucent. Cool slightly.
In a large bowl, stir together cornmeal mix, canned corn, sour cream, butter, eggs, parsley, poultry seasoning and pepper. Stir in onion, celery and crumbled bacon. Turn into the sprayed baking pan; bake 45 minutes at 350° F. or 1 hour for a deeper, 2-quart dish.

Yield: 10 servings.
Back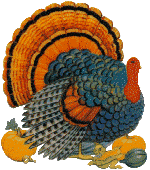 Home

Razzle Dazzle Recipes



http://www.razzledazzlerecipes.com

Don't forget to visit our other Recipe site at
That's My Home