Razzle Dazzle Recipes - Thanksgiving Recipes
"Your Source for Turkey Recipes Online"
Grilled Turkey Breast Recipe

2 garlic cloves, peeled and sliced

3 T. apple cider vinegar

3 T. olive oil

1 t. fresh thyme leaves

3 T. fresh lime juice

1 T. soy sauce

1 3-lb. boneless, skinless, turkey breast

In a shallow pan, combine garlic, vinegar, olive oil, thyme juice and soy sauce for the marinade and set aside.

Pound the breast to an even thickness of about 1 1/2 inches. Place in the marinade, cover and refrigerate for at least 3 hours.

Light a fire in the barbecue grill with 5 pounds of charcoal and allow to burn for about 30 minutes. Or set a gas grill for 375 degrees. Oil grid lightly.

Remove the breast from marinade and reserve the marinade for basting. Place the turkey on the grid, 6 inches from the coals and grill, basting often — about 5 minutes on each side, or until juices run clear when pierced. Slice against the grain in 1/4-inch slices. Serve with cranberry chutney or cranberry pineapple salsa.
Back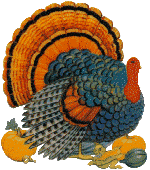 Home

Razzle Dazzle Recipes



http://www.razzledazzlerecipes.com

Don't forget to visit our other Recipe site at
That's My Home