Razzle Dazzle Recipes - Thanksgiving Recipes
"Your Source for Turkey Recipes Online"
Roast Turkey with Hazelnut Stuffing Recipe

Turkey:
1 14 to 16-lb. fresh turkey
1 C. coarse salt
2 Granny Smith apples, quartered
1 t. nutmeg
1 t. allspice
1 orange, quartered

#1 Basting Sauce (to use at start of roasting):
1 C. unsalted butter
1/4 C. fresh orange juice
1/4 C. fresh lemon juice
1/2 t. course black pepper
3 T. fresh thyme or 1 tbsp. dry
1/2 t. salt

#2 Basting Sauce (to use at end of roasting):
1/4-lb. unsalted butter
1/4 C. maple syrup

Sausage and Hazelnut Stuffing:
1 C. hazelnuts, roasted and skinned
1 lb. fresh pork sausage
1/2 lb. chicken breast, skinned, boned, and diced
1/2 C. unsalted butter
1-lb. chopped onion
2 C. chopped celery
2 T. sage
1/2-lb. Virginia ham, diced
8 C. stale bread, cut in 1/2-in. cubes
1 C. chopped Italian parsley
3 large eggs, beaten
2 t. coarse salt
2 t. coarse black pepper
2 oz. Amaretto
1 C. turkey stock

Prepare Turkey:
Rub salt all over turkey, inside and out. Cover turkey with cold water and let sit for one hour in the sink (this will get rid of blood and gamey taste).

Preheat oven to 350ºF.

Mix spices with apples. Put 1/2 of apple mixture inside turkey under white meat (front). Using the other half of apple mixture and quartered orange, stuff under the dark meat (back) inside turkey.

Prepare basting sauce #1 by heating butter and adding juices and spices. Put turkey in roasting pan and add basting sauce. Roast, covered with foil, for 2 hours.

Prepare Stuffing:
Put hazelnuts in food processor and chop to medium coarseness. In a large skillet, brown pork sausage and drain. Add 3 tsp. of butter to pan and fry chicken until done. Sauté onions, celery, and sage until translucent. Add ham and rest of vegetables in large bowl, adding the pork, chicken and bread, mixing well. Add eggs and Amaretto. Finally, add turkey stock to moisten.

Put in baking pan and bake 1 hour at 350° F.

Finish Roasting Turkey:
Remove foil and roast until internal temperature is 175° F., basting every 15 minutes.

Prepare #2 basting sauce by heating butter and maple syrup. Remove bird from oven when it reaches 175° F. Let rest — turkey will continue to cook, reaching 180° F. in the next 15 minutes. Baste with #2 sauce until all sauce is gone. Remove fruit from inside.
Back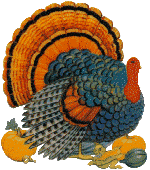 Home

Razzle Dazzle Recipes



http://www.razzledazzlerecipes.com

Don't forget to visit our other Recipe site at
That's My Home